Episodes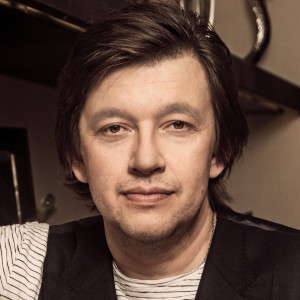 Sunday Nov 10, 2019
Sunday Nov 10, 2019
It's A Question Of Balance ® radio show balances the intellectual with the creative, exploring whether we have more in common than divides us through thought-provoking conversations - out and about with people on the street on different topics, and in the studio with inspiring guests from the arts. Balance is not a compromise. Balance is truth distilled from many places creating cohesive understanding. Hosted by Ruth Copland.
Check out podcasts of the different topics and arts guests at www.itsaquestionofbalance.com
Broadcast on KSCO AM 1080, KSCO 104.1 FM, KOMY AM 1340, and KSCO.com Live Stream.
In-Depth Arts Interview: Vasily Klyukin, Artist and Entrepreneur | Part One


Vasily Klyukin sculpture from 'In Dante Veritas' exhibition in Venice; Vasily with model for sculpture; 'Why People Can't Fly' installed at Burning Man 2019.
In his early life, Russian artist and entrepreneur Vasily Klyukin applied his highly creative mind to business, where he has been phenomenally successful. Latterly, his creativity has moved towards art with him creating complex sculptures and installations which are located around the world including in Moscow, London, Monte Carlo, Cannes and Ibiza. Vasily Klyukin is a famous defender of the environment and works on promoting the fight against environmental pollution every chance he gets. Inevitably, environmental themes permeate his fascinating sculptures. He's also known for his unique architectural concepts, and an inventive sci-fi novel. He has raised nearly $2million for charity auctioning his art.
Ruth Copland interviewed Vasily Klyukin in the Hollywoods Hills, Los Angeles, USA just after he returned from a hugely successful installation of his art at the Burning Man 2019 festival and before he returned to his home in Monaco via London. This is the first in a two-part series of interviews with Vasily Klyukin. Part One covers Vasily's first memory of art and his early life, what it was like at Burning Man showing his installation, and the amazing exhibition 'In Dante Veritas', and what inspired these works. Also why he is so passionate about defending the environment.
Vasily Klyukin's solo exhibition called 'In Dante Veritas' was a huge success both at the State Russian Museum (St. Petersburg) and the sculptural park, 'LA Collection'Air' in Lucerne (Switzerland). An expanded multi-media version of 'In Dante Veritas', comprising more than a hundred inter-related art objects, is exhibited at the 2019 Venice Biennale where it is extremely popular with attendees. Vasily Klyukin's inspiring concepts for unusual buildings are published in the book Designing Legends. His science-fiction novel 'Collective Mind' was published in Russia and is now available in English via Amazon. Vasily Klyukin is known for his support of amfAR, the Leonardo di Caprio Foundation and Prince Albert II of Monaco Foundation.
For more info visit www.itsaquestionofbalance.com

Copyright 2019 Ruth Copland. All rights reserved.