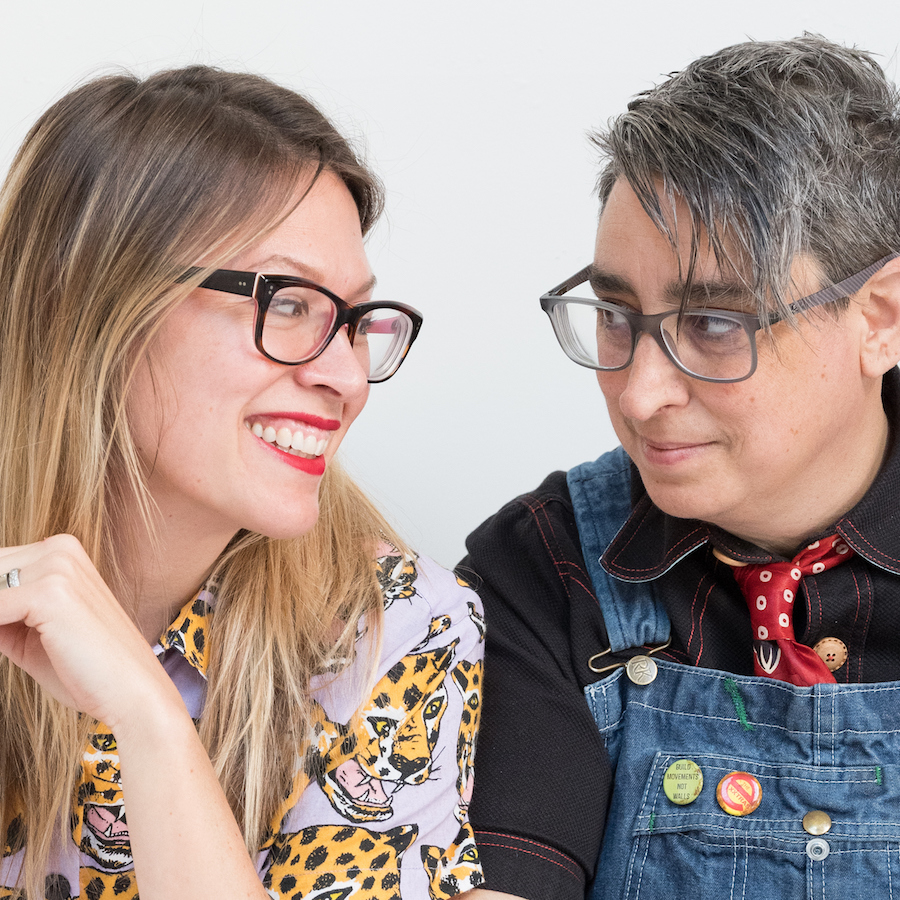 Broadcast on KSCO AM 1080, KSCO 104.1 FM, KOMY AM 1340, and KSCO.com Live Stream.
It's A Question Of Balance ® radio show balances the intellectual with the creative, exploring whether we have more in common than divides us through thought-provoking conversations - out and about with people on the street on different topics, and in the studio with inspiring guests from the arts. Balance is not a compromise. Balance is truth distilled from many places creating cohesive understanding. Hosted by Ruth Copland.
Check out podcasts of the different topics and arts guests at www.itsaquestionofbalance.com
Arts Interview: 'Rad Girls Can' Author Kate Schatz and Artist Miriam Klein Stahl
'Rad Women' series author Kate Schatz and artist Miriam Klein Stahl showcase bold, brave and brilliant women who are living rad lives in ways small and great. The runaway success of the 'Rad Women' series has inspired girls, women, and the men in their lives. Their latest book 'Rad Girls Can' features the inspiring lives of young women under 20. Kate and Miriam say they "truly believe that 'Rad Girls Can' is the book we all need right now. It shows us the potential and the power of young, creative, hopeful, brilliant girls, and all that they can do in this world. While some of the stories in 'Rad Girls Can' are about girls from history, many are contemporary, and show how young people are engaging with and shaping the future of some of our most urgent issues, including voting rights, climate change, immigration, gender and sexual identity, disability rights, and racial justice". This New-York-Times best-selling artistic duo hailing from the Bay Area, California, join Ruth Copland to talk about their lives, art, and how the 'Rad Women' books first came about!
Miriam Klein Stahl is a Bay Area artist, educator and activist. In addition to her work in printmaking, drawing, sculpture, paper-cut and public art, she is also the co-founder of the Arts and Humanities Academy at Berkeley High School where she's taught since 1995. Miriam's socially relevant artwork, creates portraits of political activists, misfits, radicals and radical movements, and has been widely exhibited and reproduced internationally. As an educator, Miriam is dedicated to addressing equity through the lens of the arts. She is also the co-owner of Pave the Way Skateboards, a queer skateboarding company formed with Los Angeles-based comedian, actor, writer and skateboarder Tara Jepson.
Kate Schatz (pronounced Shots) is a Bay Area writer, organizer, public speaker, educator, and feminist activist. As well as authoring the four Rad Women series books, Kate writes fiction. Her work has been published in numerous publications with her short story "Folsom, Survivor" included as a "Notable Short Story" in Best American Short Stories 2011. Her book of fiction, Rid of Me: A Story, was published in 2006 as part of the acclaimed 33 1/3 series, and her essay "Dear White People" appears in the recent anthology Radical Hope: Letters of Love & Dissent in Dangerous Times. As an educator, Kate has worked with a wide range of age groups for over 15 years including teaching at UC Santa Cruz, San Jose State, Rhode Island College, and Brown University. She is a frequent public speaker at notable events and is the founder of Solidarity Sundays, a nationwide network of over 200 feminist activist groups who meet monthly to take coordinated non-violent political action.
For more info visit www.itsaquestionofbalance.com

Copyright 2018 Ruth Copland. All rights reserved.